With three Flexofit Seminars in Port Louis, Mauritius on 20th, Johannesburg, South Africa on 24th and in Windhoek, Namibia on 27th October Flexofit answered to an ever rising demand to professional education in the printing industry in Africa. The local expert audience in all three countries delightfully attended the seminars with industry speakers from international companies like Chespa, DuPont, Esko, tesa, Renzmann and Windmoeller & Hoelscher among others.
Mauritius: a small market with great potential
The 2nd Flexofit Mauritius Seminar after last years was well received as the interest in Flexofit seminars is increasing. Representatives from Chespa, DuPont, DuPont South Africa, Polyflex South Africa, Toyo, Windmoeller & Hoelscher gave their presentations to the islands printing industry experts. Especially solvent and water based inks were discussed in addition to the peculiar challenges in this rather small market, where short runs in printing material are a challenge for cost efficiency and meeting market demands.
South Africa: Increasing demand in
professional education for a growing market
In South Africa last year the first Flexofit Seminar took place in Cape Town. This year a variety of customers from the Johannesburg region met with European industry experts from world leading printing industry companies again.
Esko started the seminar in Johannesburg with the presentation of Johan Bastiaen, Sales Director Africa on "Flexo simplified". Followed by Chespa from Poland with CEO Marek Siekiera presenting the latest "Innovations in Flexo Printing". DuPont, world leading company for photopolymer plates, continued with "Why the Cyrel* Printing plate is so important to the success of Flexo"– Gary Weyman, Sales Manager Africa gave the answer. Glen Robbins from tesa, a well-known company in adhesives, gave an interesting overview of "tesas Print and Web Processing soft print and splicing assortment". Last presentation from Heike Beenen, Global Marketing Manager at Renzmann from Germany was "Cleaning and solvent distillation in flexo printing companies", which is also an environmental issue.
For 2018 a Flexofit seminar is planned for Durban as requested both from the international speakers as well as by many customers.
Namibia: Emerging market with exciting opportunities
The Southwest African country Namibia had a premiere with their first Flexofit Seminar ever. Also in Windhoek presentations from Chespa, DuPont, tesa and Renzmann were very much appreciated by all professional participants. The Namibian market has been growing in the last years and the international speakers wanted to get a firsthand impression of this emerging market.
"The seminar was truly an insightful event. For the sleepy packaging industry of Namibia, it was indeed a great inspiration to take advantage of opportunities that Namibia could capitalise on in terms of regional packaging. Often enough around here, there is very limited knowledge and awareness about the emerging Packaging Technologies"
comments Paul Endjala, MD of Kaptau Packaging in Oshakati.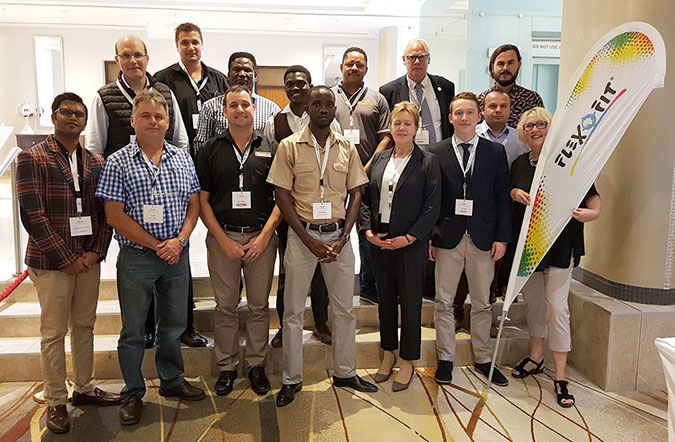 At all seminars Product Samples and further information about devices were shown at table top exhibitions. The networking at the event was mutually perceived as very valuable.
For 2018 Flexofit Seminars are planned to take place in Africa and Asia, watch this website – more information coming soon!
The Flexofit Mauritius, South Africa and Namibia seminars were also featured in The Gapp , Flexpack, Nigeriapackaging and Flexoglobal.