2nd Flexofit Kenya Seminar in Nairobi: World leading companies meet most important African tradeshops and printers
In October we held our second international Flexofit Seminar in Nairobi, Kenya. Last year the first ever Flexofit Africa Seminar also took place here, in the Ole Sereni Hotel in Nairobi. This year over 40 attendees from the region, including representatives from Africa's most important tradeshops Polyflex, Flexoworld, Kul Graphics and Amar Graphics met with European industry experts from world leading printing industry companies.
A presentation by Hilde van Eetvelde, Software Application Specialist and Johan Bastiaen, Sales Manager Africa, both from Esko, Belgium introduced the latest products and the offering of Esko to the Kenyan market. Next up Alfred Porr, Sales Manager from Renzmann, presented the latest inventions in distillation and cleaning units for Flexo from his company.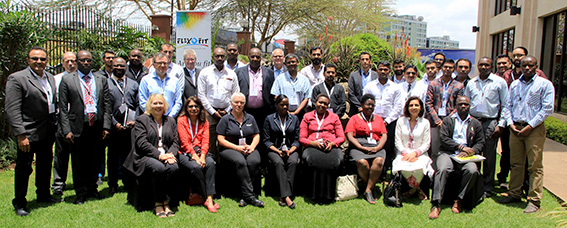 During the course of the seminar discussions about education and lifelong learning developed with a special focus on the institutional settings and possibilities in Kenya and Africa in general. As a result of the discussion a 3-day seminar on prepress, plate making and printing to further educate industry professionals was planned for 2017.
Products, samples and further information on devices and machines from Windmöller & Hölscher and Tesa were shown in the table top exhibition presented by the distributors from the region that surrounded the seminar. The networking around the event was mutually perceived as very valuable.
The feedback on the seminar from the attendees was very positive. Frederic Muriungi, Sanjac Packaing Ltd., Kenya commented: "Thanks to Flexofit for taking the time to come and showcase their expertise, we learnt a lot. We would love to have some trainings locally. The seminar was informative and educative, I am looking forward to the next seminar!"
This seminar was also reported on by FlexoGlobal, Flexpack, Printindustrynews.com and Global Print Monitor.